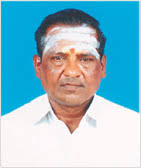 Chairman's Desk
As you know Kalaiarasi Educational Trust was established to promote the noble cause of general, technical, vocational and professional education in southern districts of Tamilnadu.
We believe that imparting quality education to this new generation is our greatest responsibility. Upholding our tradition of success, we have so far provided high quality technical and managerial education to the young. Empowering them to grow into a generation, equipped with enhanced powers to be architects of modern india.
Our college boosts experienced and renowned scholars in its faculty, modern and well equipped laboratories, state-of-the-art infrastructure and a conducive environment for learning.
Thamirabharani Engineering College has no doubt carved an enviable niche in the hearts of the people of the region and is all set to play a vital role on the national scene too.
We welcome the new batch to our college with all our heart and wish them the very best.
Mr. M. R. Paulraj
Founder – Thamirabharani Engineering College