TRAINING AND PLACEMENT CELL
Vision
To contribute to societal development through learner empowerment by imparting life-skills education contributing to holistic development leading to better career opportunities.
Mission
Design training programs for continuous development of Staff and Students.
Offer guidance on career development, resume building and interview skills.
Needs assessment of the corporate world.
Build better relationships with all the stakeholders.
Obtain feedback from industries and corporates regarding interns.
Secure challenging job opportunities for better prospects.
Create a culture of continuous development and self-learning.
Overall development to be a better citizen of the world.
PLACEMENT POLICY
One Student more offer is the placement policy
The Interested students for campus placements should register for participating in the campus placement selection process as per T&P Cell notification usually during the end of the third year of engineering.
TRAINING AND PLACEMENT CELL
Our Institute has established a full-fledged Training and Placement Cell (TPC) for facilitating the students for campus placement. The facilities include a Seminar Hall of seating capacity 400 for conducting PPT and other events, a Discussion Room and 10 numbers of Interview Rooms. All these rooms are designed good interiors, ambience provided with networking and other essential facilities.
Training is an essential component to enable students equip with the desired skills to get decent placement in Companies/Corporates/Industries/Organisations. Training on communication skills is designed and executed with the help of Experts for all students, starting from second year onwards to meet the standard of industry expectations. Career focus events are arranged to help students to set their target from second year onwards so that they would get adequate time for competence development. Career Awareness programmes are arranged for all second year students to make them aware of all career options and competence expected by industries.
Students are also groomed to become able Engineers with relevant skills needed to get employed. Students are trained to meet the Industry expectations and develop confidence to face the companies selection process that includes Aptitude test, Group discussion and Personal interview. Eminent Human Resource Executives from various Industries are invited frequently to give guidance on the expectations of Industries from fresh Graduates/Engineers. Students are well informed and guided to set their goals and mentored to achieve it. Students get complete guidance from TPC about preparing for placement in their chosen field or corporate or industry.
Various placement training programmes such as solving Aptitude questions, Group Discussion skills, Interview Techniques, Resume preparation, etc., are arranged for all final year students to equip well to participate in campus recruitment interviews. The Training and Placement Centre makes every effort to network with all segments of industries ranging from Manufacturing to Software. Fruitful relationships with industries are being nourished with utmost care for mutual benefit.
TPC also provides the Students guidance on higher studies, preparing and writing various entrance examinations like CAT, GATE, GMAT, BEC, GRE, TOFEL, TANCET to pursue higher education in Engineering, Technology and Management streams.
Objective
To impart to new aspirants the basic knowledge and skills.
To assist the students and equip them with Industrial Knowledge.
To build up student proficiency by providing training to prepare the students as a part of their career progression which lead to mutual success and achievement.
INVITATION TO COMPANIES FOR PLACEMENTS
T&P Cell would initiate the invitations to various companies along with relevant information for campus recruitment for final year B.E students well ahead i.e. during March to May every year and later follow up on regular basis. Email / hardcopy correspondence should be made with the companies.
Only one official Email ID is used for all correspondence and T&P Cell is responsible for email content sent through the email ID.
Placement officer and Faculty In-charge placement officers connected to T&P Cell interacts and meet with potential recruiting companies on regular basis. HoD Incharge of placements also interacts with company executives as and when required.
The placement commences from June every year, but based on the requirement, T&P Cell may change the date in consultation with officers concern.
If any company expresses willingness to visit the campus for selection process on its own, T&P Cell verifies the credentials of the company before inviting them for campus placements.
Department Faculty Placement Coordinators
| | | |
| --- | --- | --- |
| S. No. | Name of the Placement coordinator | Department |
| 1 | AL. Karthikeyan, AP/Mech | Mechanical Engineering |
| 2 | Mr. M. Ramnath, AP/CSE | Computer Science and Engineering |
| 3 | Mr. S. R. Samkingsley, AP/ECE | Electronics and Communication Engineering |
| 4 | Mr. S. Rajamuniasamy, AP/CE | Civil Engineering |
| 5 | Mr. S.Sundararaj, AP/EEE | Electrical and Electronics Engineering |
Recruitment Process Chart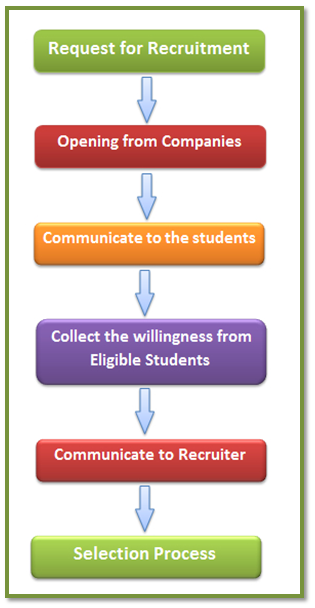 Training Program AY 2021-2022
S.No.
Program Name
Resource Person
Number of

students

attended

/ Participated

1.
Employability Skills Training Program
Mrs. S. Joyce Esther,

Soft Skill Trainer,

Titan Leap

Mrs. V. Suganya,

Aptitude Trainer,

Titan Leap

474
2.
Career Guidance Program
Mr. B. Johnson,

HR,

TEC.

86
3.
Plan for Future Career Endeavors
Mr. G. Bojabalan,

Trainer,

Great Minds Technology,

Chennai.

474
4.
Career Guidance for Competitive Exams
Mr. Benjamin Fraklin,

Trainer,

Tamilnadu Graduate Federation,

Chennai.

86
Program AY 2022-2023
S.No.
Program Name
Resource Person
Number of

students

attended

/ Participated

1.
Gate Awareness Program
Dr. D. Ravindran, M. E., Ph. D.,
Principal,TEC
86
2.
Career Guidance Program
Mrs. N. Angela Matthew,

Business Development Associate,

BYJU'S Educational technology company,

Chennai.

86